A highlight of Advent is our Community Christmas Pageant in which children and a few adults portray the Story of the Nativity.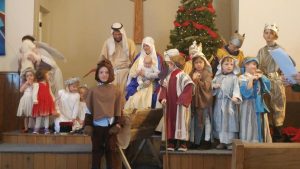 Children are vital to and welcomed in our fellowship! A Nursery is provided for infants and young children.
Preschoolers through high school kids are welcome to take part in the 10:00 worship experience.
Children can stay in the sanctuary with their parents or go to Sunday School, following the Children's Sermon.
FPC's children's ministry strives to provide safe, graced, kid-friendly space to experience Jesus' love and leading. All staff and adult volunteers go through a background check to assure a safe learning and ministry experience. 
July 22 – 26, 2019 FPC participated in an Ecumenical Bible Camp, led by a Youth Mission Team from St. Stephen Presbyterian Church in Ft. Worth, Texas. Five local churches sponsored the camp – Defiance, First Presbyterian, First United Methodist, Good Shepherd Lutheran, and St. Barnabas Episcopal Churches. VBC took place at Good Shepherd Lutheran Church. Each local pastor taught the Bible Story one day, and each church served lunch one day. 60 children and many local volunteers participated. It was a fun, exciting week of music, missions, crafts, science, recreation, and Bible study.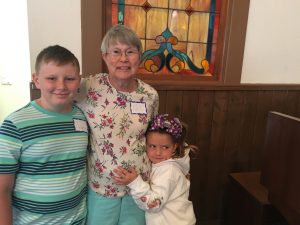 Pictures from the 2019 Community Christmas Pageant